As ethics are the moral compass of a society, and society is constantly evolving,
are questions of ethics still valid?
« Plus ça change, plus c'est la même chose. »
("The more things change, the more they stay the same.")
-- Jean-Baptiste Alphonse Karr, Les Guêpes, January 1849.
Each generation thinks that the next generation is wild and reckless. My grandparents were likely taken aback by the introduction of Rock and Roll to modern society. They would certainly have preferred the works of J.S. Bach. However, if I'm not mistaken (
and I might be
) J.S. Bach was branded a heretic in his day! Now there is obviously a huge difference between socially acceptable music and ethics. I suspect however, that societal ethics don't actually change as much as we might think.
If one considers the
Occupy Wall Street
movement that started a few years ago, the protesters were against corporate greed at the expense of the less fortunate. Basically, as the theory goes, 1% of the population is living off the backs of the other 99%. Now I don't entirely buy that, however the point of Ethical Debt is that, as far as most people are concerned, this
could
be true. Ethical Debt must be managed in the same way as financial debt. The impact of financial debt is obvious. We can only continue incurring more financial debt for so long before our creditors pull their purse strings tight, and refuse to offer any more. There may be situations where debt must be incurred, however the longer that debt stays
on
the books, the more expensive it is to remove it
from
the books.
Ethical Debt is not Karma
Many readers may at this point think I am referring to the mystical concept of Karma. This would be a misunderstanding. Karma implies that when you do good, at some time in the future, in some unrelated fashion, good will be done to you. The opposite side of Karma holds that when you do evil, evil will be done to you. Ethical debt on the other hand, says that when you stretch the boundaries of socially acceptable behaviour, society is less and less likely to trust you. To illustrate this, let's take a look at Bill Gates. With respect, Bill Gates is renown as an aggressive businessman. He has caught the ire of many around the world for what outwardly appeared to be a profit at all costs approach to his leadership at Microsoft. Since stepping down from an active role at Microsoft, Mr. Gates and his wife have started the
Bill and Melinda Gates Foundation
.
We work with partner organizations worldwide to tackle critical problems in four program areas. Our Global Development Division works to help the world's poorest people lift themselves out of hunger and poverty. Our Global Health Division aims to harness advances in science and technology to save lives in developing countries. Our United States Division works to improve U.S. high school and postsecondary education and support vulnerable children and families in Washington State. And our Global Policy & Advocacy Division seeks to build strategic relationships and promote policies that will help advance our work. Our approach to grantmaking in all four areas emphasizes collaboration, innovation, risk-taking, and, most importantly, results. [source]
Since its inception, the Gates Foundation has given away nearly $33 Billion, yet Mr. Gates continues to be portrayed in social media as some sort of evil mastermind. How many more billions of dollars will the Gates family have to give away before the Ethical Debt is off the books?
Another illustration is the assassination of
Boris Nemtsov
on February 27, 2015. Is there anything that Russian President Vladimir Putin could say or do to make the world believe that he was not involved? The fact is that what Mr. Putin
does
speaks so loudly that nobody can hear what he
says
.
The opposite side of Ethical Debt (
ie: Ethical Credit
) is also true. George Washington is attributed with the quote: "
It's better to be alone than to be in bad company.
" Of course, there is no way to validate that this was ever uttered by Washington, or that he is its original source, but his reputation is such that we believe it to be true.
What Does This Mean For You?
Canadian citizens are, for the most part, highly respected around the world. In fact, it is a matter of national pride that a Canadian can travel just about anywhere in the world, and as long as he or she displays a Canadian flag, open doors and smiles will be plentiful. However, an article in The Huffinton Post from the 9th of February 2015 entitled
Canadian Businesses 2nd-Most Trusted In The World: Survey
drew attention to the Ethical Debt balance sheet among Canadian companies. (Though they didn't call it that.)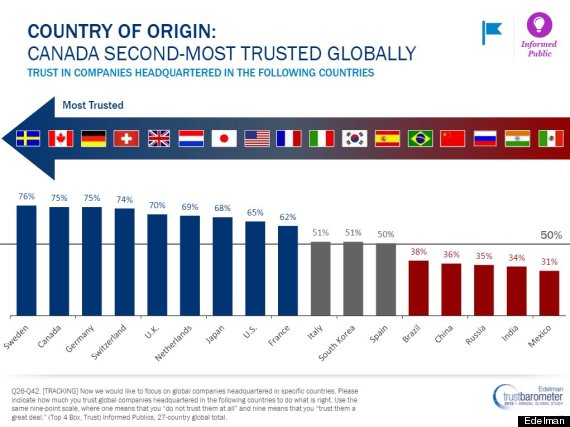 The story points out that "
Canada saw the largest drop in trust in business of any of the 27 countries surveyed.
" What this tells me is that Canadian companies are trading internationally on the reputation of our citizens. The rest of the world trusts Canadian businesses almost implicitly, but the people who know us best (those within our borders) don't trust us like they used to.
This is a wake-up call to all businesses. Correct your Ethical Debt before you have no reputation left upon which to trade.
WR